RESTAURANT

Enjoy seasonal dishes using fresh ingredients from Toyama
Toyama Bay, often called "a natural fish reserve,"
is home to more than 300 types of fish year round.
It is where warm and cold currents converge,
and with nutrient-rich water flowing in from the Tateyama mountains,
it creates a rich natural environment for various fish to thrive in.
Visit TOYAMA HAMASAKU to enjoy fresh, seasonal seafood from Toyama Bay.
しつらえ

INTERIOR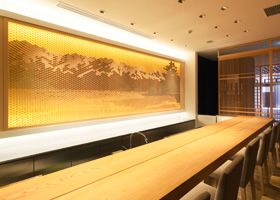 Enjoy your meal in a relaxing atmosphere
Incorporating locally produced material and traditional crafts from Toyama, our restaurant was designed with careful attention to detail in order to create a relaxing atmosphere for our guests.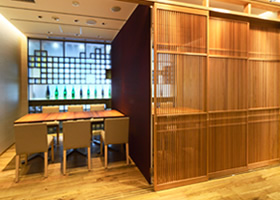 Spend quality time in your own private room
We have a private room that can be used for business meetings and special occasions.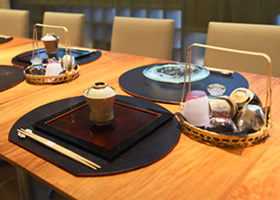 Traditional Toyama craftsmanship at your fingertips
Our eating utensils also reflect traditional Toyama craftsmanship, from tin sake glasses to cups made of copper and Toyama glass, and dishes and bowls made of china and lacquer.
INFORMATION
Restaurant Hours
11:30~14:30 17:00~22:30(Sundays & Holidays ~21:00)
CONTACT
For reservations and other inquiries, please call
+81-3-3516-3011