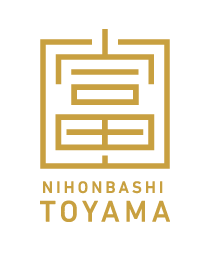 Quality of Life, Toyama Style
There is a wealth of nature to be discovered in Toyama,
from the 3,000 meter-high mountains of Tateyama
to the deep waters of Toyama Bay, dubbed "a natural fish preserve."
This rich environment has cultivated a unique culture,
and the wisdom of the people of Toyama and their quiet will to live each day with care and dignity
are evident in Toyama's food, tradition, crafts and design.
At NIHONBASHI TOYAMA, visitors can experience Toyama's quality of life.
Connecting the center of Tokyo to the culture of Toyama,
NIHONBASHI TOYAMA continues to offer quality goods and the newest information.
ENJOY Toyama's food and sake

We offer food, local specialties, and local sake from Toyama for our visitors to enjoy.

EXPERIENCE Toyama's unique crafts and culture

Visitors can experience a variety of Toyama's crafts and culture, such as traditional crafts, the skills of seasoned artisans, and designs unique to Toyama.

CONNECT with Toyama

By sharing the culture of Toyama with our visitors in Tokyo, we aim to develop positive interactions that will enrich tourism and business.